This article was Originally Publish On AmAbigail.com
I will show you how to get a slim upper body and thick lower body. As a slim girl, it is not out of place to set a slim thick body goals to get thicker and gain some size all over or just on the booty.
If you are struggling to get thicker on your lower body and you want to have that slim thick body type, then this article will help you with step by steps guide on how to get slim thick in 30 days.
We will show you both at home and a slim thick workout plan for the gym.
You will also get a slim thick body meal plan that includes breakfast, snacks, lunch and dinner.
This will be your guide to getting fit and thick with a result-oriented workout plan and meal plan.
So if you are ready to get fit and thick, then let's get started but first let's look at slim thick means so we both are on the same page.
Related articles: How To Get Curvy Body In 2 weeks and How to Get Curves and a Flat Stomach At Home With Workout
Related Articles:
Please help share this post by pinning the image below on Pinterest.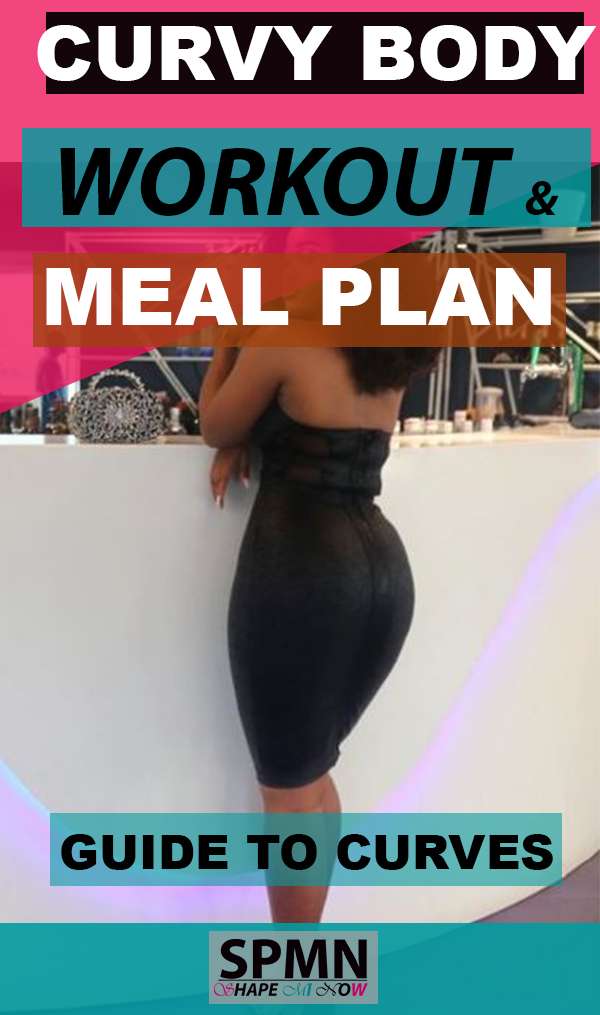 Body Goals On How to Get Slim Thick in 30 Days
What is Slim Thick Meaning?
Slim Thick is a term or phrase used to describe a lady with a lovely body build with a rounder hips, full-thighs, sizeable bubble butt with a flat belly and a slim or tiny waistline.
Slim Thick Body Types
Some ladies naturally have slim thick body types while other do not have it natural.
For those you do now have it natural, they have to work out and healthy in a particular kind of way to achieve this.
If this is what you have in mind or are looking at achieving, then keep reading.
Getting slim thick in 30 days is a realistic body goals to set for yourself that requires 3 main steps.
One is nutrition, second is training and the third step is rest to rebuild and get thicker.
The Nutrient Guide and Slim Thick Meal Plan, followed with the diet and meal plan presented in this article is what you need to get slim thick within 3 days.
This is the exact step I place my client on whenever they want to get thicker while maintaining a flat and slim waistline.
#1. Eat on a Calorie Surplus
The first step to getting thick is to eat more than before. This is called calorie surplus.
What are calories?
If you have no idea of what calorie means, here it is. Calories are simply the energy unit in food generally. Or you could say it is the unit for measuring energy in all the food we eat.
The only food that does not contain calorie is water.
To consistently eat on surplus calories to get thicker, you have to know your calorie surplus need, then you want to EAT the quantity of food that match that surplus need daily.
This will require you to have an idea of the calorie content in the food you consume on a daily basis, so take some time to learn the amount of calories each food in your meal contains.
Then adjust your calorie to meet your surplus calories.
To calculate your surplus calorie please check out this calorie calculator page, then enter your details to get your surplus calories calculated for you.
This is the first and most important step to take when you want to get fit and thick.
#2. Make Healthy Food Selection
When trying to get thick, the food selection you settle for can have a very great impact on whether your gain mostly fat on the wrong part of the body or your gain them more on the hips butt and thighs to get curves.
If you are trying to get fit and thick with curves and flat abs, then you have to make healthy food selection.
And this means you taking away your junk and replacing them with healthy options and nutrient-dense food type. See this list healthy nutrient-dense food to grow your lower body.
Take look at the infographic above to give you an idea of what to take and possible healthy replacement.
For a more detailed list of healthy food to get slim thick please take a look at this article I had written before and also see the post on how to get slim thick in 3 days
In addition to eating clean on a surplus is making you have the ideal slim thick workout schedule with a proper fit and thick workout plan that meets your specific needs.
You could either decide to go for a slim thick workout at home or go for slim thick workout plan at the gym
I will show you both gym and home base routine to perform to slim thick.
Before heading to the slim thick workout plans, first, go through this sample get thick meal plan below.
Slim Thick Meal Plan |How to Get Slim Thick Diet
This is how to get slim thick diet to gain size that I away start my slim client off with then I adjust thing later base on their body process things.
You should try to also observe your body to know what is best for you and to see how your body reacts to things.
This article on how to go from skinny to curvy cover the steps to making your own meal plan yourself.
You might have to check it out if you need a variety of other food options.
(Slim Thick Meal Plan Overview)
So this slim thick meal plan has your meal broken down into 6 small meals throughout the day. Starting with a slim thick breakfast meal as your pre-workout and followed by a post workout meal.
Then there is a slim thick lunch meal with snacks in between and finally dinner meal + snacks.
This eating pattern helps ensure you get your whole calories for the day and it will also help increase the secretion of digestive enzymes for easy break down of your food as against eating 2 or 3 heavy one-time meal.
Slim Thick Workout Schedule
Now that you know what to eat, let's move on to the slim thick workout schedule and slim thick workout plans at home and for the gym. There are 2 separate slim thick workout plan below, one can be down at home and the other can be done at the gym.
Each plan has 2 follow-along workout Video routine to work your lower body which includes your hips, glute max muscle, the legs, hamstrings and quads.
And the second video following the lower body workout plan includes exercises that targets your upper body, belly and oblique a.k.a your waistline.
You are only required to select one routine that you prefer, be it the gym slim thick workout routine or at home slim thick workout routine.
So let's get to the workout plans for the slim thick body types
Slim Thick Workout at Home
Get Thick at Home Video Routine 1
This routine targets your hips and booty and legs and hamstrings. You are to do this work out for 2 to 5 days a week and take weekends off.
Please do now workout every so your body can recover and from training to repair and grow thicker.
Try to stick to instruction of how to perform each move as indicated in the video.
Get Thick At Home Video Routine 2
This Routine works your entire body, upper body, abs and oblique that is your side belly muscles.
You can decide to do this routine on separate days for your main lower body workout routine above.
Or you perform the workout the same day with your lower body workout.
Try to aim for 2 or 3 set in day for this routine for 2 or 3 days per week.
Slim Thick Workout Plan Gym
Get Thick At GYM Video Routine 1
Please follow this routine for your booty strength and thickness. Always focus on your training exercises form. Perform move correctly in other not the hot your bone or nerves.
Get Thick At GYM Video Routine 2
So I am performing this routine at home because I have the gym equipment at home, but if you don't have these at home, you will now do these at the gym.
So if your like to go to the gym, then include the exercises in the routine above in your workout. Shop Related Products
Strong Glow – Body Weight Booty Workout$9.99 (1)Ads by Amazon
This routine is working all body parts at once including your abs, arms, hips and hamstrings and your total body strength to help you get fit and strong.
You are to use weight that feel right for you and slowly progress by challenging yourself more weekly.
Maintain a proper exercises form when lifting weight so you don't injure yourself. Aim for 2 or 3 set in day for this routine then carry out session for 2 or 3 days per week.
Final thoughts.
So here you have the gym and home slim thick workout schedule to get fit and thick. It is now your turn to apply what you have learnt from this article to get thicker. That is how to get slim thick in 30 days.
Off cause, your meal gets 8o% of the result so don't forget to use slim thick meal plan i get you above.
Or you can use the advice from this article to plan out your meals properly so you see results in 30 days.
I hope this post has helped you? Be sure to share if it helped you.