As you may know wearing a waist trainer con have some benefits. But how about the cons
If you are thinking of acquiring a corset for the sole purpose of waist training, then it is best for you to be well informed on the pros and cons of waist trainers. Some people are apprehensive on donning waist trainer, believing it may hamper on digestion and may lead to intestinal issues. So, is waist trainer bad for you? I will try to detail all you need on waist trainer pros and cons post so you know.
Waist training basically entails putting on a corset to trim down your waist in order to attain that figure 8 or hourglass shape that every woman yearns for.
The internet is flooded with loads of information on wearing of corsets and knowing if waist training is bad or good.
In this article, we were able to compile the reactions of women over the last decade who tried out on waist training.
Related Articles: How to Lose Weight Waist Training + 5 Best Waist Trainer to Lose Weight
12 Best Long Torso& Lower Belly Plus Size Waist Trainer For Weight Loss
Waist training Pros (Pros of waist training)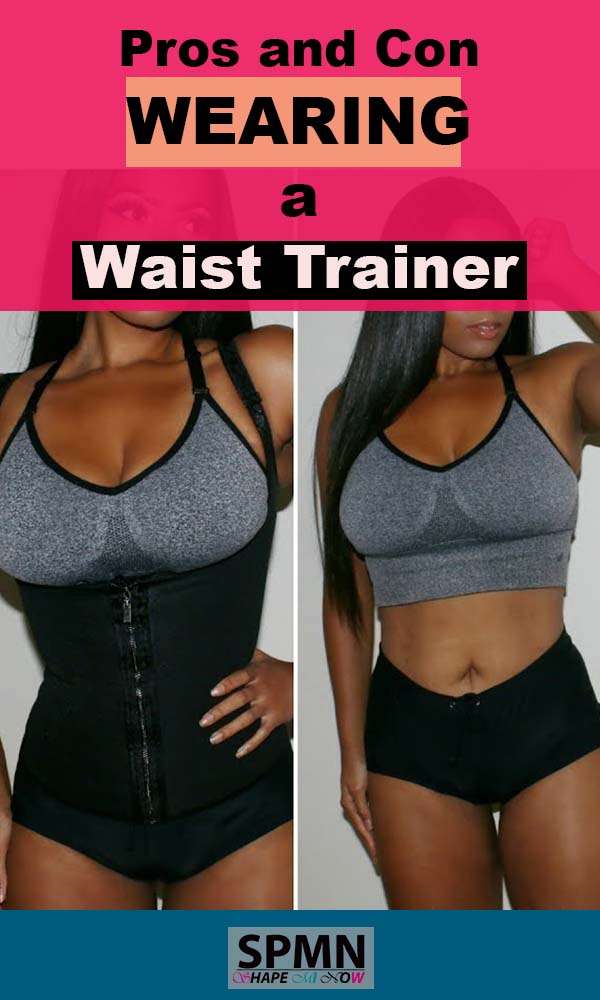 So here are the pros of waist training:
No1. Helps you achieve an "hourglass" shape
The ability to achieve an hourglass physique is perhaps the only cogent reason why women don corsets. Waist trainers help to highlight the curves of the bustline and hips; which are the major contour of women most men look at for. Though there are some factors that determine the extent to which your waistlines get smaller. This is pros of waist training I could think off.
No2. It helps improve your
Next pros of waist training is that it helps improve your posture. One major benefit of waist trainers is its ability to improve and retain a fine posture whether in sitting or standing position. Waist training is made with steel which doesn't permit you to slouch or slump.
No3. Corsets hold up the bustline
The overbust corsets aids in supporting the bustline. Women with larger breasts will benefit from this; it also eases back pressure and pain.
No4. Fashion Statement:
Most females love the way corsets effortlessly fit in with their personal style, so they simple integrate it as part of their outfit. It is more common to slim your waist by donning a corset under your clothes. This makes it easier to waist train by merely fitting in the corset as an outfit accessory.
No5. Waist training boosts confidence:
Most women have reported that wearing waist trainer helps to enhance their self-confidence, particularly when attending an event or social gathering.
No6. Weight Loss:
Eating with while putting on waist trainer helps to curtail the quantity of food you consume, thereby keeping your weight in check. Your intake of food is limited with corsets.
Donning waist trainers before and during meals and for an extended period of time helps you achieve weight loss.  This doesn't mean waist trainers automatically burns belly fat; don't get it all twisted. Wearing corsets only helps you cut down on your food consumption, and you can only get this benefit if you wear it during a meal.
No7. Waist Strengthening & Tightening:
This is mostly beneficial to women who just delivered a baby. Postpartum waist training helps women who just gave birth to get back their natural waist size, particularly when worn consistently for some couple of months after child birth.
Corsets keep you warm on cool days
Waist trainers helps keep you warm on cold days, because it's like wearing extra clothing around your mid-section.
No8. Corset multipurpose and Cost-effective
Purchasing corsets for waist-training aren't too expensive; you can get one and harvest the amazing benefits of waist-training. Waist trainers are available in diverse shapes and sizes, you can opt for the ones that are plain and simple or ones that are sexy and bright. This adaptability gives you a chance to convey your persona and find the most fitting tops.
No9. Pain Relief & Rehab
Apart from its aesthetic benefits, women also wear waist trainers for therapeutic purposes because it provides relief from pain and support after back injuries.
Waist Training Cons
A majority of people are against waist training, citing instances of sheer discomfort and the unpleasant impact it has on digestion. However, most of these demerits are as a result of using waist trainers excessively. There is no such thing as waist training causing damage to your body or vitals.
So, are corsets bad for you? If your waist trainer is bad for you, it may cause you great pain and discomfort. Please don't apply the notion of "no pain, no gain" In this case, you may have to loosen it or entirely take it off if your waist trainer is causing you pain.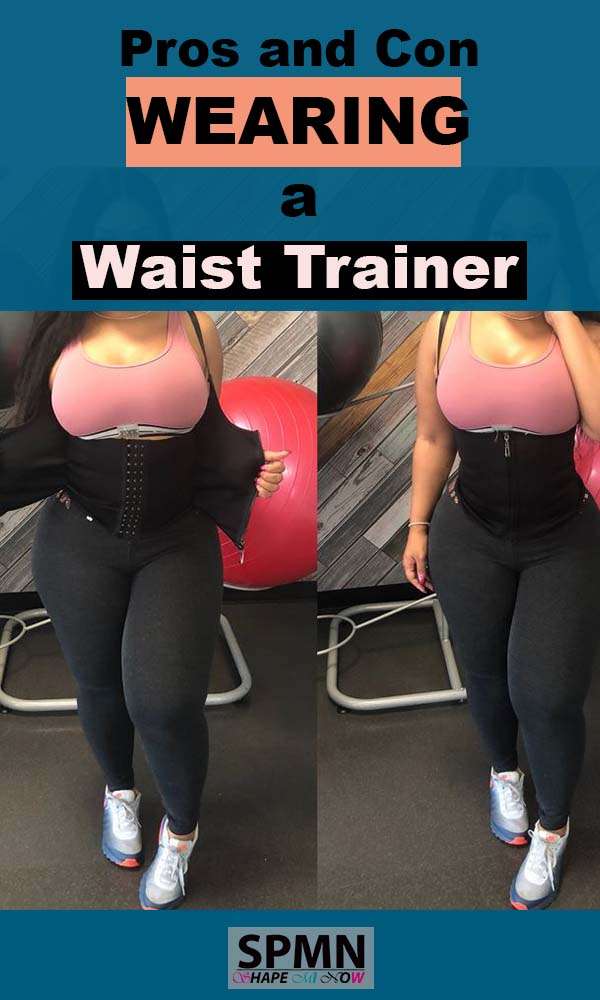 So, are corsets bad for you? Let's find out.
Can cause acid reflux: Putting on waist trainers mounts pressure on your intestine, esophagus, and stomach. This can lead to obstruction of proper digestion, thereby triggering acid reflux. Avoid wearing waist trainers that are too tight or you can relieve yourself during meals by taking it down. It isn't a "do or die affair".
It can cause great discomfort: It can be very uncomfortable to wear waist trainers, particularly when its grip is extremely tight or worse still if you are trying to exercise in it. It isn't advisable to workout in your corsets as it can lead to undesirable health complications.
To know if you your corset is exceedingly tight, there are some signs to watch out for. These include:
Shallow breathing or difficulty to breath
Limited movements
Pressure on pelvic floor
Bruises
Waist trainers can Reduce Core Strength: Intense waist training can affect your core strength because our core muscles depend extremely on support provided by waist trainer.
Causes Low Breathing: An extremely compact or tight waist trainer can restrict the diaphragm, thereby causing short breaths. Avoid wearing waist trainer that is too tight such that it affects your breathing.
Corsets Can be Addictive: Waist training can develop into an addiction for some women, such that they can engage in obsessive corset wearing in a bid to trim their waistline. Doing this may come with some harmful side effects.
Can be uncomfortable on Warm Days:Wearing waist trainers is like wearing a double cover of garments, which can cause discomfort particularly on warmer days. On a scorching, sunny day, it would be ideal to wear mesh corset, which will be more comfy compared to the conventional types.
It can affect your disposition:A very unyielding and tight corset can affect your frame of mind and disposition. Being uncomfortable can trigger fits of rage, which wouldn't be ideal in a work environment, among friend, relatives, and colleagues.
Corsets Can Be noticeable under Clothing: Corsets materialized from the early period when women's clothing fit very in a different way than it does in these present times. Their garments then were thick enough to conceal the corset. You cannot use lightweight blouses or knitted tops to wear waist trainers as they would be very revealing. So, it is ideal to choose waist training that would be perfectly concealed in your chosen outfit
Related: How to get a flat tummy in 7 days|6 Steps to Get Flat Belly in one week
So what about the Pros and Cons of Wearing a waist trainer while working out
Well here is a summery
Waist Trainer Benefits during workout
One to increase your result will waist training is to include workout or exercises to your routine. The main waist trainer benefits during workout, that it burn more fat on the waist your energy level. This helps trim and give that hourglass shape you want.
So, for the most part, I will advise you include exercises to your waist training journey to see more faster result.
So those are the pros and cons of wearing a waist trainer while working out or on your normal everyday life.
Conclusion on The Waist Trainer Pros and Cons
So, there we go on waist training pros and cons, after going through this article on waist trainers pros and cons, you can now decide "if waist training is bad or good for you"? Corsets are nice, cost-effective and versatile part of some women's outfit.
Now that we have examined the pros and cons of waist training, it is essential to note that the demerits listed above can be salvaged by opting for a trained fitting. Also, ensure you exercise caution all though your waist-training.
Putting on waist trainers on gowns and skirts frequently goes well, as the waist of the clothing frequently rests at your normal waist. So, it is best to go for thicker fabrics, because these thicker materials help to conceal any corset bumps.
Share this pros and cons of wearing a waist trainer while working out article on Pinterest if it helped you.
What to Read Next: 9 Easy waist trainer workout & Best waist trainer you can workout in