Do want to get curvy body and so you looking for some of the best curvy body workout at home to is very effect to getting your results.
Well if you do, then you have just reached this right article. In this post I will show how to get curves and a flat stomach at home.
Basically I will guide on how to workout at home to get curvy body beside wearing body shapers and waist trainers to get immediate curves.
The idolized body type now for women is being curvy. When you have a flat stomach and curves to go with it, you are considered sexy.
If you take a look around, it seems most women are going under the knife to adjust their body.
To have a curvy body shape, you need a small waist, slightly wide bust and hips, and a lifted butt.
For a better explanation, you need a figure hour shape or what is popularly known as the figure 8 shape.
Undoubtedly, having a curvy body is super attractive and pleasing to the eyes. Take a look at celebrities like Jennifer Lopez, Beyonce, or even the Kardashian sisters.
You will agree that these women look good in almost any dress. They are considered as the sexiest in the world in the today.
The reality is that it's not everyone that is born with a curvy shape. We all have genes that determine the type of shape we will grow into.
It could be a round, straight, or a pear body shape. Well, just because you were born with your body does not mean you cannot do something about it.
There are lots of options to get curves and a flat stomach. You could decide to go for cosmetic surgery or try to get them naturally.
This post is going to give you some tips on how you can get curves and a flat stomach.
Related Article: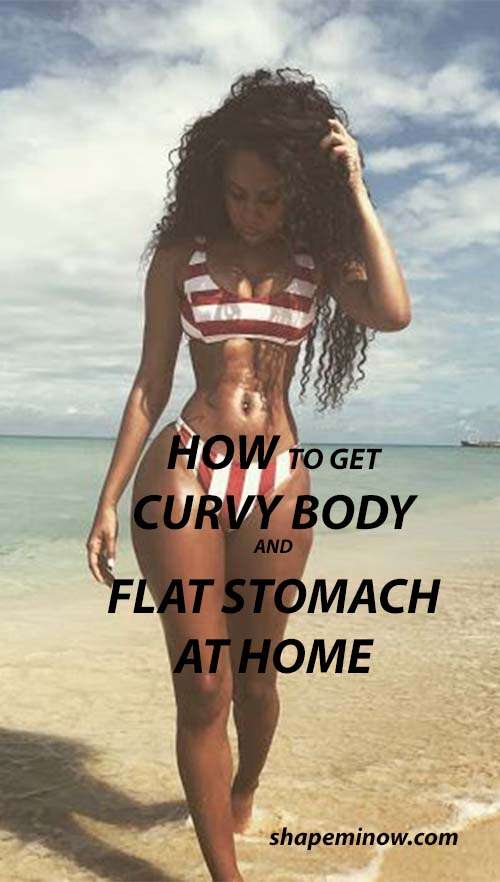 How to get curves and a flat stomach at home
Flat stomach and curves are what you can get at the comfort of your home. All you need to do is to modify your diet and try to do exercises that would give you that hourglass figure.
The healthiest way of keeping fit is by doing exercises. However, the outcome of the curves solely depends on the type of body you have. Some body types will have more pronounced curves than the others.
If you want to have curves, then you will need to work hard to removing your body fat and toning the muscles in your hips, thighs, chest, shoulders, abdomen, and back.
The exercises you do will not enlarge your breasts or buttocks, all it does to do add shapes to an important part of your body.
Whatever body type you might have, making exercise a part of your daily routine will give your body the illusion of curves. Before you know it, you will begin to see obvious changes in your body's structure.
How to workout at home to get curvy body
Whether you are slender or not, you can make changes to your body. Even if you have a straight body frame, there are exercises that will help your shape and give your curves.
You can get those shapes in the right places you want them with commitment and dedication.
Any workout you would be doing should be more focused on body building and strength training. You can Lean how to build just your glute here.
Strength training is the only way you can change the look of your body and tone your flabby stomach flat.
Performing Strength training will help add curves to your shape and tone your body and you also need work on your upper and lower body to get curvy body.
While working your lower body, you have always try to increase the volume of the total workload you do on that body part. This is what will help increase the size.
And off cause your nutrient is also as important as your training is. In fact, they share a fifty, fifty portion to your success rate.
The main key in looking toned and sexy is exercise. There are so many curvy body workout at home exercises out there that you can use to get the body you desire.
You can begin with your flat stomach and curves exercise in the comfort of your home. What you need to do is to purchase the right things needed to turn this dream into a reality.
The exercises we mention below will give you an idea of what to expect when you begin exercising.
You should look for an area in your home where you can concentrate and do your exercises daily.
If you are doing the right exercises, it will not be long before you begin to burn calories and getting the curves you want.
You can burn about 210 or more calories according to your weight, height and the time spent exercising.
Exercises will help you to build your muscles which will then define your hips, thighs, and butts.
5 curvy body workout at home
Squatting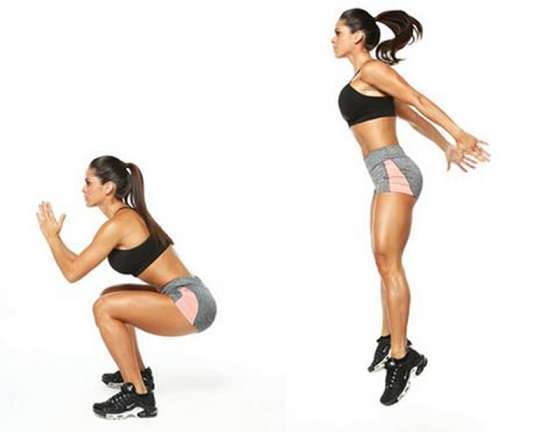 Doing squats is one way you can tone your thighs and lift your butt. This exercise targets straightening abdominal and strengthens the lower part of your body.
To begin, you need to stand straight and keep your feet and shoulder-width apart. Once you have done that, bend your knees and begin to lower your body as far as you can.
When you do this, ensure your hips are pushed back. Then, squeeze your glutes and return to the starting position.
Engage in this exercise as much as you can. Let it be part of your daily routine in getting curves and flat stomach.
Lunges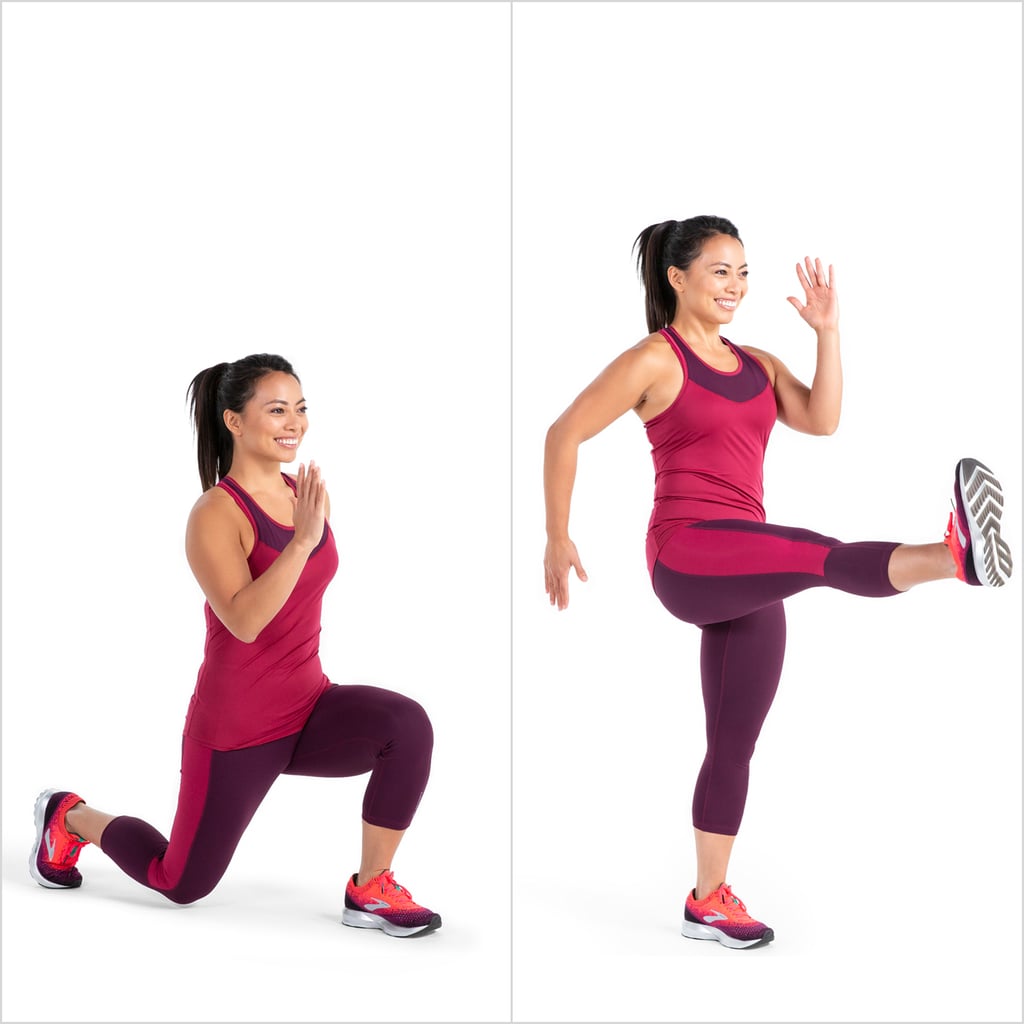 This exercise improves stability and helps with your body structure. Lunges are strength training exercise that helps in building and toning your body.
To begin, stand straight and keep your hip apart. Then step forward with your right left and start to move your weight forward until your heel hits the floor.
Slowly lower your body and let your right thigh remain parallel to the ground. Then put your left knee on the ground without shifting your weight.
For an effective outcome, you can lift a weight in your two hands.
Push Up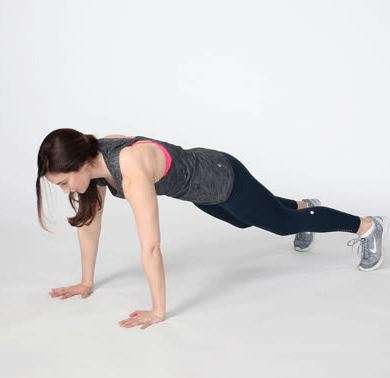 This exercise is useful in toning the upper part of the body. It will help you to get a flat stomach.
To begin, lie face down on the ground and let your shoulders form an angle. Keep the legs and back straight and support your weight on your hands.
Now, start lifting yourself from the floor and ensure your body does not touch the ground.
Abdominal exercises
The aim of this exercise is to ensure your waist gets slimmer. It helps in waist compression to create the illusion of curves. How are some Abs exercise you have to be doing or you can follow the routine the video above?
The aim is not to make the waist very tiny but to remove excess fat and make it look curvy. An abdomen with layers of fat will not bring out curves.
Planks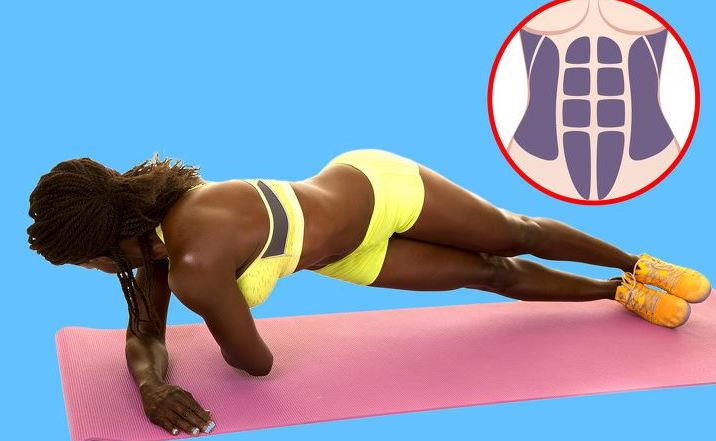 Planks help with your posture, balance, and strengthen your core. It also helps to define your muscle to give a curvy body.
To start, put your elbows and forearms on the floor just slightly below the shoulder. Ensure your two arms are shoulders apart.
Then put your toes on the floor firmly and squeeze your glutes. Make sure you maintain a straight balance and keep this position for 20 seconds before starting all over.
Conclusion
I hope this post on how to get curves and a flat stomach at home was helpful to you? In this post I have shown you how to workout at home to get curvy body with 5 curvy body workout at home routine to get you started on your fitness and hourglass shape journey.
Those are ways you can get curves and a flat stomach. If you make these exercises part of your daily routine and also change your diet, you will begin to notice changes as soon as possible.
If you this post helped you any way please share it by pining an image on Pinterest form here.