Find out how to activate glutes for wider and rounder look with these simple side glute exercises. If you are familiar with Instagram I am sure you would have seen some fitness models that have completely round glutes. That is the work of an effective Gluteus Medius Exercises also called side glute exercises.
I know that some are not real but there are some real ones too. Those real ones got their round glutes by doing many side glutes exercises in combination with nutrient-dense food for the growing butt.
You can find a comprehensive list of foods that goes to your bum here in this article.
Also properly built side glutes will be round with curves and it does not matter whether you are looking at it from the side or the front.
This post will give you a side glutes workout routine that will LEAD you to real progress in your quest for well-rounded booty muscles and wider side glute.
Just before get into the routine fully make sure to check this post on shapewear you could wear to make your glute appear wider and fuller. Also, see this article on Tips to Lose Belly Fat with a Waist Trainer. I recommend you also try to lose your waist fat because when you do, it makes your side glute medius will look bigger.
Related Article: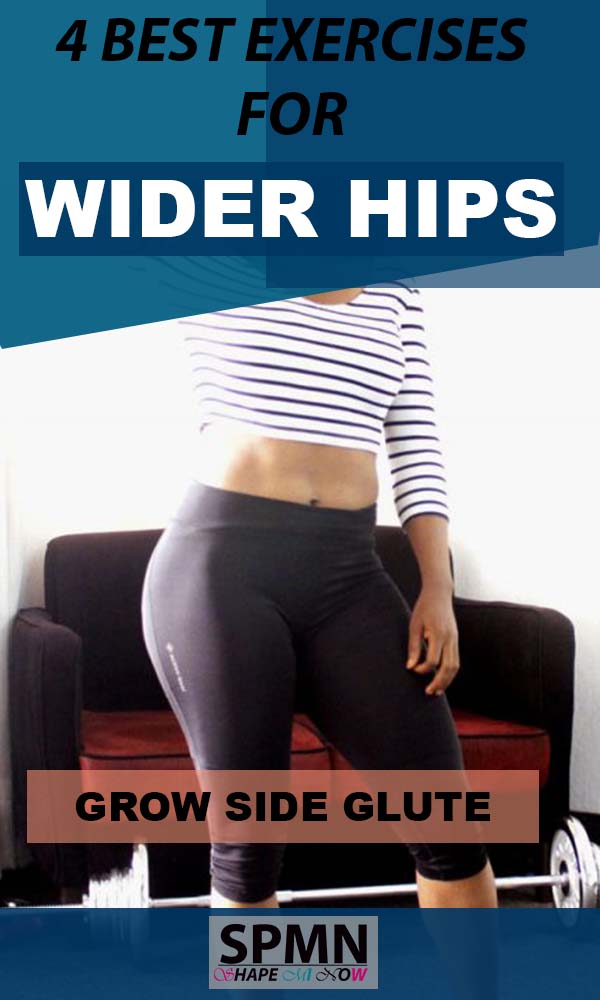 Overview on Best Gluteus Medius Exercises Routine
For this procedure, you will need a glute band so go and get one to help you do this workout s in your home. This band is easy to get, they are very inexpensive and valuable for putting additional resistance to build more pressure on the gluteal muscles as you do your workouts.
Also, make sure you get a glute band that is manufactured with a quality rubber or the ones made from elastin cloth material,
This will stop it from slipping and also make it have a firm resistance like this one that you can get in Amazon.
Though if you don't have resistance band you can still get do this routine and have a successful outcome when you are just starting out, but with time, you need to go get a band.
See these two great quality bands I found on Amazon you can use too.
Made with:
This side glutes routine that we are showing in this post has 4 exercises that will focus totally on your gluteus medius and minimus. In these exercises, you will continue to hit these muscles hard to give you best the roundness of your glutes possible.
Furthermore, you will need to rest for 20-30 seconds as you do each exercise to pile up the pressure and set your glutes on fire.
You should also note that the larger the mechanical pressure you mount on the glutes the larger your gains will be.
For proper food selection to grow your hips, please check out this 51 food list for the bigger hips.
How to Activate Glutes| 4 Side Gluteus Medius Exercises For Wider Hips
So, I will begin by first, looking at each exercise, and then stating the number of reps and sets that you must do for each of the Gluteus Medius exercises for wider hips you will see below. I have a more detailed post on this topic, titled: Step By Step Guide on How To Increase Hips Size Fast you can continue reading there for in-depth knowledge.
Okay, let's begin!
#1 Glute Banded Hydrant Side Kicks
This is a hydrant kick that is slightly different from what you know. This routine is calculated to put heavy pressure on your glutes in the first few reps.
However, I must warn that you must be in good shape to execute this routine. Also, I will go slowly and control the process so that you will activate your glutes to get superior results. So, just know that to work on your glutes using these exercise routines; you must go rather slowly to understand the movement completely.
How To Do this Side Glute Exercises :
Start by making your elbows to carry your upper body. Place the band around your thighs immediately above your knee caps.
Begin from the left side and gradually raise your left leg to one side until it is parallel to the ground.
Next, keep your legs straight and stay in that position for 1-2 seconds then go back to the starting position. You can repeat the process with the other side of your body.
#2. Booty Band Squat Jump Exercises For Wider Hips.
You should note that this squat is unique as you will hit both the side glutes with this procedure and tone-up your thighs too. Also, you know that well-toned thighs match well-built glutes.
How To Do this Side Glute Exercises :
Start by Standing shoulder-width apart but make sure its wide enough to stretch the glute band.
Next, gradually sink the body into the squat posture to bring your thighs parallel to the mat, then come and jump explosively up while trying to expand your thighs wide.
as you bounce on the ground squat and again and keep repeating the number time.
Then repeat the needed reps this move.
#3. Donkey Kicks With Glute Band
This move is another donkey kick with a little difference. This procedure will aim at both the gluteus maximus and minimus. Furthermore, you should bear in mind that, you want glutes that look round both from the front and sideways. To get the roundness and pump up the glute do this routine.
How To Do this Side Glute Exercises :
Begin from the usual starting position for donkey kick. Put the glut band around your thighs.
Start from the left leg, and gradually lift it up very high as you can see in the picture above and truly squeeze the glutes at the height of this procedure.
Next, keep squeezing the glutes for 1-2 seconds and then gradually bring your leg to its initial position with the leg suspended above the ground.
Do the number of reps on each leg that you need.
#4. Standing to Squat Glute Kickback Exercises for Side Buttocks
By the time you complete this exercise, it will burn-out the gluteal muscles. You are doing this if you remember to push them to the limit so that you can get the highest muscle hypertrophy.
How To Do this Side Glute Exercises :
Position yourself by as you can see and start, by standing and facing the wall and side you like. Use your hands to hold on to your waist and lean a little to the front with the glute band around the ankles or thighs.
Begin with your left leg, squat down come up and then kick back as far as you can until you feel the most stretch in the glutes. Now, hold that stretch right there for 1-2 seconds and then go back to the initial position.
Now finally, do the number of reps you need for each leg.
HERE IS THE SETS & REPS FOR EACH SIDE GLUTE WORKOUT
For Glute Band Lateral Donkey Kicks –
Do 2 Sets Of 20 Reps On Each of Your Legs
Also, for Booty Band Squat Jump – Do 2 Sets Of 25 Reps On Each of Your Legs
For Donkey Kicks With Glute Band – Do 3 Sets Of 20 Reps On Each of your Legs
In addition for Standing to Squat Glute Kickback – Do 3 Sets Of 20 Reps On Each of your Legs
Conclusion
In this guide, I gave you 4 Side best gluteus medius exercises that will give you wider and rounder Hips and I hope you love them? Dont forget to pin the image below on Pinterest for future reference.
Now that you have these exercises For wider hips, it means you can get the completely round glutes that have always fascinated you.
All you need to do is follow this guide and do the required gluteus medius exercises or workouts as recommended above and see the amazing results. Make sure to push those side glutes muscles to their limit.
This is how to activate glutes with exercises for the side buttocks done at the comfort of your home.
Hope this post was helpful? please share!
Related Article: 
Step By Step Guide on How To Increase Hips Size Fast
Body Goals: How to Get Slim Thick in 30 Days (Meal + Workout Plan)
Tips ON How to Lose Belly Fat with a Waist Trainer