Many men and women in their middle and late adulthood often develop fat pockets under armpits. This could be a huge problem because at his stage of their lives, they need extra validation to feel beautiful.
Let me just point out that people with fat pockets under armpits are not usually the greatest workout enthusiasts.
So they surf the internet for tips on how to tighten underarm flabs hoping to get solutions that they can use and see results overnight but sadly find out that things do not go that way just like that.
Most drugs don't live up to expectations and end up causing physical and health repercussions. Then they make up their minds to try out workout routines and dieting.
Time passes and still, their long hours of working out with rigorous exercises to get rid of armpit fat do not pay off as expected and they end up with a pushed out chest and even bigger arms. Does this sound like you?
Related Article:
11 Best Female Chest Workout At Home Without Equipment
How to Get Rid of Underarm Fat Quickly (Ultimate Diet & Exercise Guide)
Well do not worry because you are not the only one suffering from this problem. This article is packed full with easy tips on How to get rid of underarm fat quickly.
Underarm fat are the result of age and genetics at work. Loss of muscles, weight gain, aging and infrequent activity are the major factors.
A combination all these factors are what produces a mass concentration of fat on all the unwanted parts of your body like your stomach, waistline, check, legs, thighs and off cause the fat pockets under armpits.
Fat accumulate more and cram up your arms. Sun damage and a poor diet makes your arms thinner and flabby too. And lack of muscle also makes the arm to be flabby.
Flabby arms is very common among men and women in their 40's and above.
For fat pockets under armpits, dieting and exercise are usually the best and easiest solutions.
There are many exercises for underarm fat without weights you can try as well as dieting tips on how to tighten underarm flab.
Dieting Tips on How to Tighten Underarm Flab
Dieting is the easiest way to get rid of overall body fat and trim the body, highlighting your best physical features.
Excess fat accumulation is the major cause of fat pockets under armpits, meaning that what we eat plays a huge role in our entire body fat just as much as exercise.
Now, what can you eat to reduce underarm fat?
Interestingly, eating meals made of more fat burning foods will help you lose as much fat as going on a fast or eating little quantities once a day.
So the first step for going on a diet to reduce underarm fat is to watch what you eat. Watching he type of food you eat and quantity is the ultimate diet attitude.
Change your entire diet
Eating healthy is a total must. You need to examine all your meals to note where dietary changes need to be made and act fast.
Your new diet plan should include fewer calories and a balance of fruits and vegetables. Snack on fruits instead on a burger or fries.
Be mindful so you don't forget and work consistently on this. You may even begin to see changes sooner than expected.
Increase protein intake
Next on our list of Dieting tips on how to tighten underarm flab is to increase your protein intake for a faster, easier result.
Proteins will help increase your muscle synthesis by close to 25 percent and help to build stronger muscles faster, at a very little cost.
After all, how stressful is it, going to a food store to purchase foods with high protein contents. This will give an unmistakably toning effect on your arm muscles in a short time.
Foods like fish, chicken, eggs, beans, lentils, and fruits such as bananas, avocados and guavas, are very rich in protein and other micronutrients to help achieve the desired results in no time.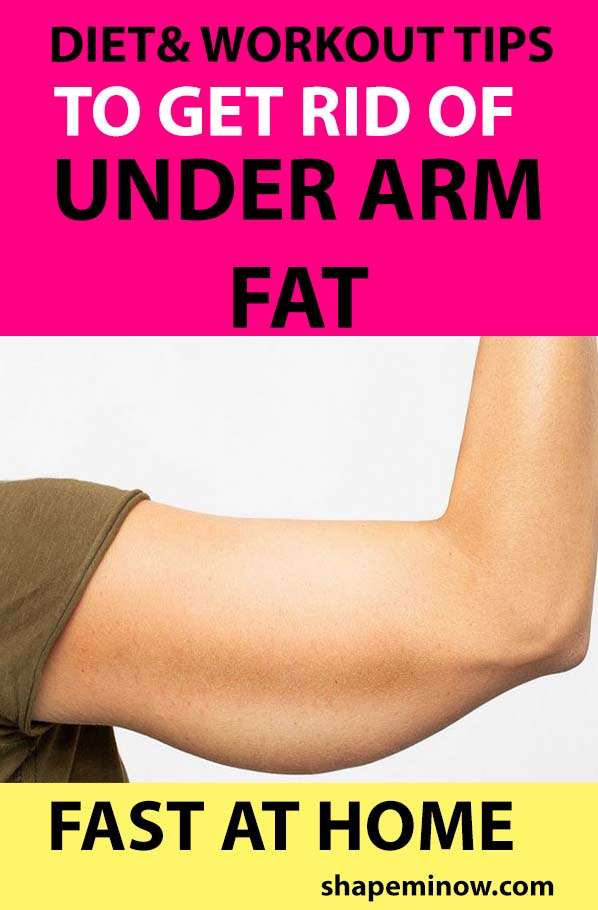 Workout Tips On How To Get Rid Of Armpit Fat Without Weights
Working without weights is very cost effective and help reduce muscular tension. Here are some Workout Tips On How To Get Rid Of Armpit Fat Without Weights.
Stretching
Stretching is very good for warming up your body muscles, especially when done in the morning.
Even if you want to do a full body exercise, stretching is very You can start and finish your workout with any type of stretching.
You may also use a Swiss ball to stretch your lower and upper back.
How to stretch?
Raise your arms or legs down to their elbow and pull for a few seconds. Use a Swiss ball to straighten your back by bending, face up on the ball and stretching your arms and legs for a few seconds and repeating.
Cardio
Cardio can be very exhausting and time-consuming. However, adding cardio to your fight against arm fat routine will surely pay off. A simple 30minute cardio workout per day could do wonders to your flabby arms.
It can also help reduce overall body weight and strengthen your total body muscles.
You may engage in cycling, running, swimming, paddling, or walking briskly.
They all help to burn excess fat and quicken metabolism because they involve your arms and chest
Superman hold
This is a very popular exercise which move and aligns your body weight while stabilizing your back and tightening arm muscles for firmer, tighter look.
Lie face down with your arms extended up alongside your head.
Tighten your arm muscles and lift your arms, chest, and legs off the floor, turning your palms to face each other.
Do this consistently for a few seconds at a time
7 Exercises To Get Rid Fat Pockets Under Armpits
The rewards of working out can never be overestimated. Besides giving you a trimmed look and highlighting the natural curves on your body, exercise also help reduce excessive accumulation of fat under your armpits.
There are numerous workout routines you can work with, however, only a few are super effective in giving slimmer arms.
Here are our top 7 Exercises To Get Rid Fat Pockets Under Armpits.
No 1. Chest Press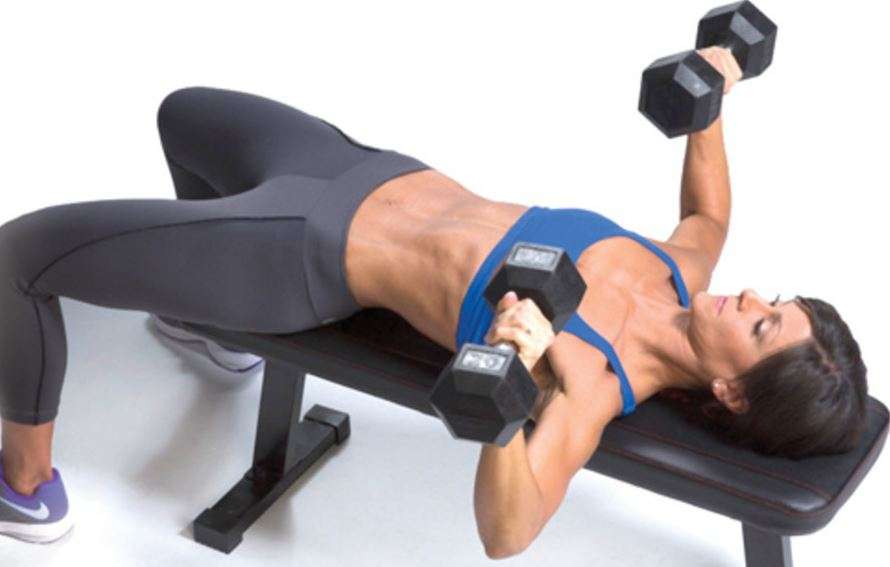 This is a full body exercise which help increase muscle strength and makes underarms and thighs extended.
This exercise should be done on a workout mat and some dumbbells.
Lie flat on your workout mat, raise your knees to your chest and bend then at half your body length.
Hold your dumbbells and raise them to your chest.
Stretch your shoulder so that your dumbbells meet slightly above your chest.
Return to the resting position and repeat this.
You should begin to feel a strain on your arms.
No 2. Rope Jumping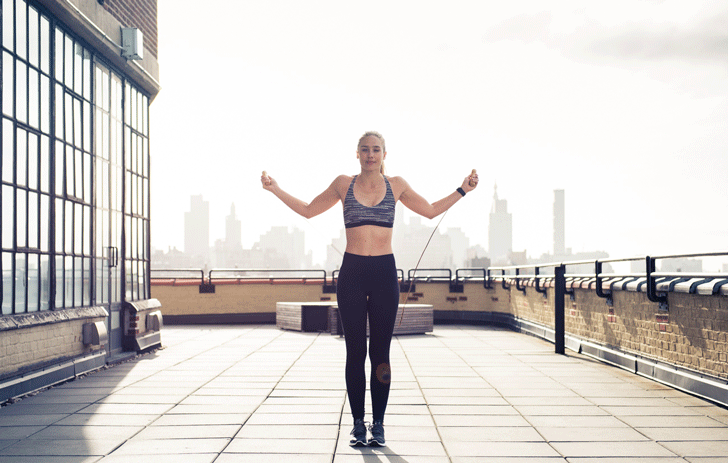 If you've tried this before, then you know that this is a fun kind of workout.
Strat with a brief warm up before you start proper. Begin to jump up using the rope as a wedge between yourself on the air. The best technique is to use turn the rope with your wrists only.
No 3. Chest Press With Ball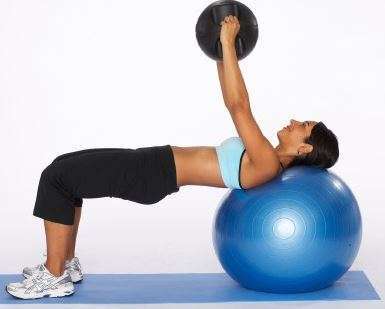 Working chest presses with a ball is super-efficient and less tedious than dumbbells alone. This workout works well to make your shoulders, triceps and chest muscles firmer and more upright thereby removing the armpit fat and flab.
You just need a workout mat and a Swiss ball to achieve this. This ball helps by increasing the range of motion in the workout
Lay a Swiss ball on the mat and lie on it face up.
Ensure that the middle of your back is balanced on the ball and your dumbells are placed on both hands.
Lower your arms out to the sides and keep your elbows slightly bent. Repeat a few times for fast results.
No 4. Upright Row
This exercise helps to improve posture and mid back symmetry. It gives you a more aligned figure constant practice.
Lift the dumbbells to the top of your chest.
Hold your dumbbells on both hands while standing on your feet.
Lower it back down slowly.
Repeat often and go on occasional breaks.
No 5. Jab Cross With Dumbbells
This is a boxing type of exercise which involves throwing jabs in the air with dumbbells. It is very effective in warming up the upper body, arms and back while improving your speed and overall coordination and focus.
Stand with your feet a little wider than hip's length and keep your knees slightly bent.
Push your arms forward in a punching position motion and return to your standing position.
Start again and repeat the action.
No 6. Push-Ups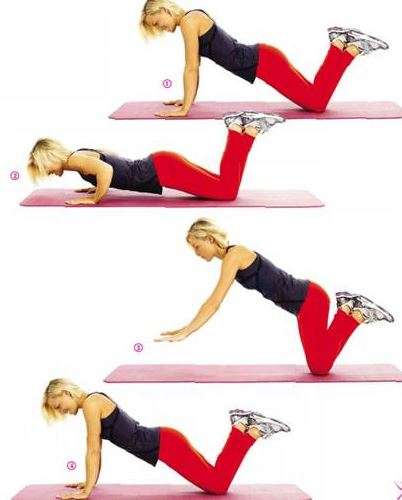 Pushups may be difficult but they are one of the best exercises for burning arm fat. Body pushups are very good but you may start with a standard knee pushup if that is too hard for you.
Lie face down into a pushup position
Engage your back and arm muscles and Slowly lower your chest.
Push yourself upwards and go down again.
Repeat severally for faster effect.
No 7. Curtsy Lunge With Side Kick Raise
This is a very compound exercise which tightens your muscles and warms up the entire body.
Take a big step back with your left leg, crossing it behind the right, and lunge.
Stand up and, kick your right leg towards the side while raising the left to your shoulder.
Repeat severally to reduce fat pockets under the armpit.
Perform each of the moves for 30 to 45 seconds and then take 15 second rests in between.
Repeat for 2 or 3 set and you good for the day. You to aim for 3 days a week. Good luck in your fitness journey.
What to Read Next: Top Tips on How To Get an Hourglass Figure in 3 Days