It is amazing to put on jeans that transforms your look and boosts your confidence. There are various tips you can use to make your booty look bigger in jeans.
You can create the illusion of any curve you want if you choose the right jeans.
There are various jeans with different styles, fabrics, and fits in the market. It is not an easy task to find the one that can transform your booty and make it look bigger. 7 Trendy and Comfortable Women's Dress Shoes for Work
There are women who are endowed and can choose whichever jeans they love.
However, for women with flat booties, it is possible to choose jeans that can make your booty appear bigger.
Related Articles:
Tips for Buying Jeans That Make Your Booty Look Bigger
If you want to make your booty look bigger in jeans, then you cannot just go for any jeans or pants. You will need to choose the one that enhances your butt.
This type of jeans is called push up jeans, as it can lift off your buttocks and nicely shape it.
When choosing a pair of jeans to make your booty look bigger, you need to take the yoke designs and the position of the back pockets into consideration.
The yoke of the jeans is that V-shaped section which gives it a curved seat. Jeans with a deeper yoke may make your booty look shapelier.
Here are some tricks and tips you can take into consideration to get a bigger booty:
The Yoke
As earlier mentioned, the yoke of jeans is the curved horizontal seam that runs across the pockets and waistband.
If you want to create the illusion of a bigger booty, then you need to get jeans with a heart-shaped or V-shaped yoke. Getting the right jeans with the right yoke can make your booty appear round and curvy.
Pockets
You might be wondering what pockets need to do with making your booty appear bigger.
The truth is that, the placement, size, and shape of pockets on jeans have different effects on your booty.
If you want to enhance the shape of your buttocks in a jean, then it is advisable that you choose one that has a small pocket.
The placement of the pocket on the jeans should not be too low; it should be placed just over your buttocks full side.
Another thing to consider is also the shape of the pockets. Pockets that are tapered and have a flap style can also increase the volume of your buttocks.
To create a fullness illusion, it will also be preferable if the pockets are slightly angled inward that is for jeans that do have a pocket. If you are not sure whether the pocket will much you or not, simply go for jeans that do not have at all to be safe like some I picked in this list.
Material
Jeans that is made with stretchy material can make your buttocks appear large. They are form-fitting and sculpt your body in such a way that it emphasizes the curves you already have.
Skinny or Baggy?
If you want your booty to appear bugger, then go for skinny. They will hug your body and make your buttocks appear lager.
Embellishments
If you want to choose jeans that have embroidery or stitches, then let it be over the butt. They will enhance your butt and draw attention to it.
Faded Jeans
Jeans that have a faded or washed out look over the butt can be a good choice if you want your buttocks to look bigger.
5 Best Jeans for Flat Buttocks (best jeans to make bum look bigger)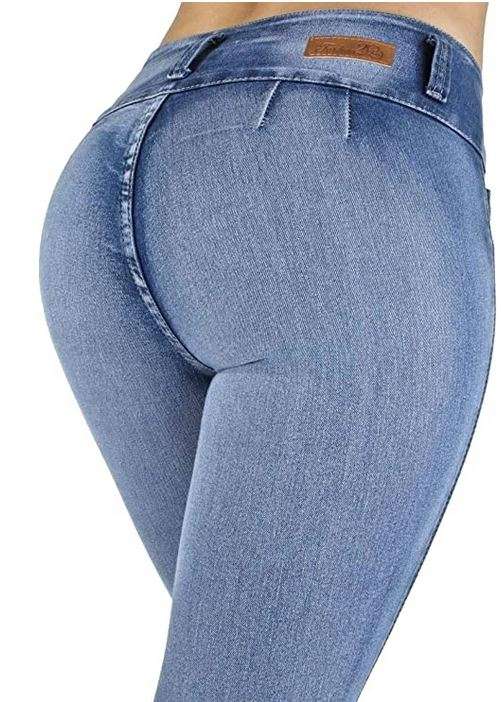 If you are looking for the perfect jeans to lift up your bum and enhance your curves, then this is the number one choice for you.
These high waist jeans are great choice for women who want to create the illusion of a rounder butt.
The jean is made with stretchy materials that will hug tightly to your hips, waist, and legs. It is also very comfortable to wear and will display the perfect outline of your booty.
This butt lift jean is soft and you can rock to parties or office with a nice shirt. This It is sold for $19.99 as of the writing of this article but you can look up the current price with the link below.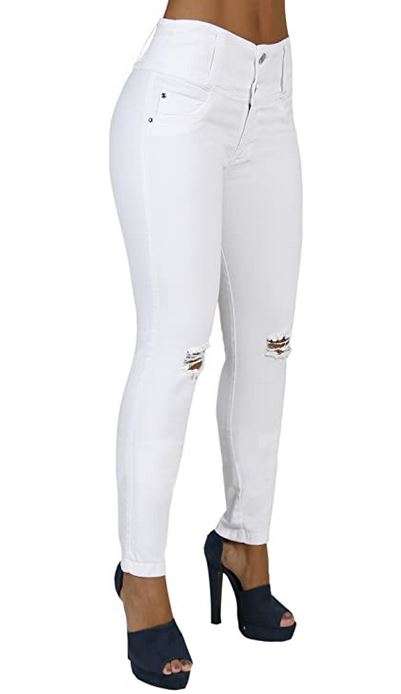 Just like its name suggests, this jeans creates the illusion of a curvy butt. When you wear it, it makes your waist appear high and wide.
If you have a muffin top, this jean will do well to hide it. It perfectly sculpts the butt and let your curves be on full display.
The curvify skinny jeans is made with stretchy materials that will lift the booty and makes it appear perky. It also has beautifully contoured seams that will give shapes to your cheeks.
This jean is priced for $41 as the writing of this post but you can look up current price detail with link below..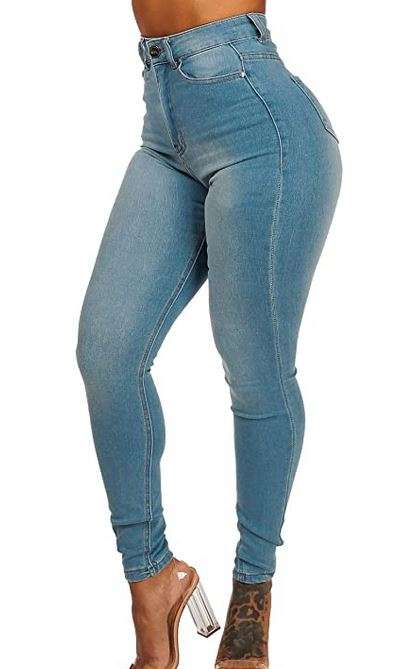 This is a high waist jammed jeans that displays and enhances the perfect shape of your bum. The shreds at the lower part make your legs look sexy and alluring.
The jeans have seam work which works specifically to give your booty the ultimate boost. It defines the shape of your butt with stitched darts and yoke.
You can rock it comfortably and display your perfectly sculpted bum.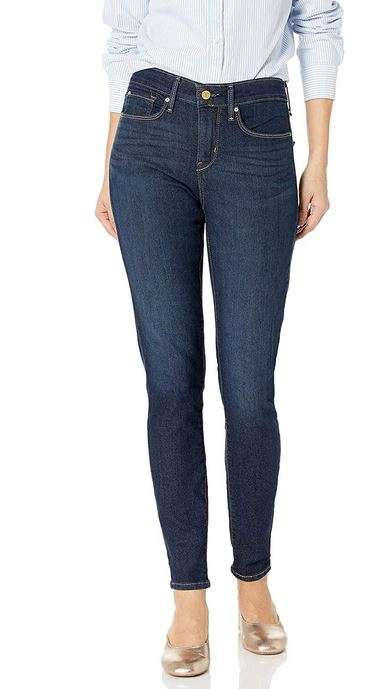 This is one of the best Levi jeans that can shape your booty and make it appear bigger. It is perfect for those with a big tummy as it compresses it and lets it appear slimmer.
It also works on your booty and thighs, making them look shaped and rounder. This jean is super stretchy and makes you feel comfortable.
It is about $21.999. You can purchase it with link below.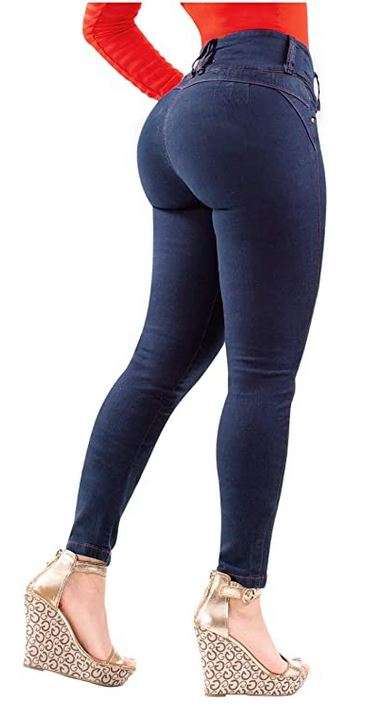 There is no reason to go for a butt lift when this jean can lift your bum instantly. It is made with soft and stretchy material that does wonder to the butt.
It embraces all the tiny curves on your body and enhances it by making it look bigger and rounder.
You can strut elegantly and confidently in this jean all day long. It is one of the best denim out there and never goes out of style.
This jean is selling for $52.99 as of the writing of this article however you checkout the current price with link below.
Best jeans for flat booties
The best jeans for flat booties are skinny jeans. They hug the body frame tightly and expose every outline and detail of curves on your body.
Choosing a skinny jean that is made with stretchy materials can also do wonders for the appearance of your booties.
As said before, you should consider the yoke of jeans if you have a flat booty and want it to appear bigger.
There is no reason why you cannot confidently rock a pair of jeans even with a flat booty. What you need to do is to choose the one that will lift your butt and make it look big.
How to make your bum look bigger instantly
There are two things you can wear if you want to make your bum look bigger instantly. The two things you can wear are padding or waist trainers.
Wear Padding
Wearing a Pad is the fastest thing to wear to get a bigger and shaped bum. You can either wear padded jeans or padded underwear.
One major drawback of a padded jean is that it makes one feel like they are wearing a diaper. However, if you choose a good padded jean, then you can walk around in it with great comfort.
If you want to opt for padded underwear, then you can choose a pant that is either built with padding or has a removable pad.
The ones that come with padding have it built within and cannot be removed no matter what. They can be very comfortable, and may remain until you decide to take the underwear off.
The only thing is that your buttocks will not be able to move around. Panties with removable padding on the other hand, are more versatile. They can either be used with or without the pads.
Here is the one I recommend which give you that seamless appearance.
Wear Waist trainers
Waist trainers are valuable assets that every woman needs in the wardrobe. They are used to sculpture the body and give an hourglass figure.
They are a good choice if you want to make your butt look bigger in jeans. Waist trainers when worn make the bum looks wide and curvier. You can look up some these waist trainers here on this page.
So, you can achieve creating the illusion of a huge and perky butt with the right waist trimmer.
Best jeans to make bum look bigger
The best jeans to make your bum look bigger are skinny jeans that are made with stretchy materials.
A jean that has a heart or V-shaped yoke can also help in making your bum look bigger.
Choosing the right jeans can help in enhancing your curve and improving the volume of your buttocks.
You need to follow all the tips written in this post to get your desired effect.
Conclusion:If you follow the tips here buying jeans that make your booty look mentioned in this post, you can make your booty look bigger in jeans. You can also make your Glute look fuller and bigger when rocking your jeans.
Related Articles: